The Beginning
As far as I remember my shelf , I was always around animals, in my baby bed , in my hug and in my house. I have rescue ,nurse and grow up many kind of animals such uscats, dogs, horses, rodents, birds, reptiles, amphibians, and fishes. With this way I learned quickly the needs of every animal and how to get along with each other in peace, but first of all I learned to respect every form of life.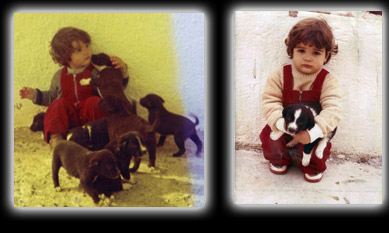 Getting to know Shar-pei
The dogs (and horses) where my passion. I had met and lived with many different breeds of dogs , but no one seems to be the ''one for me''. I was looking for the one that was perfect and ideal for me. In the 1995 I got as a present from my father my first shar-pei.. It was a sable horse coat bone mouth puppy. Her name was CHANG LEE but I was calling her and registrate her to the kennel club of Greece as SARA.
The breed was unknown to me buck then (I had seen it in a magazine only and I was wanted it! So my father found and brought a puppy as a present for me), but it didn't took me much time to understand that this was the perfect breed for me. It wasn't the unique appearance but the amazing temperament and character of it. I had never saw a dog so highly intelligent and devoted to its one and only owner and the same time so strong character and humanized.
In the 1996 I start amateur to train and do with my dogs the new sport I discovered , Agility. I also had already saw the unbelievable brave of the breed together with their dominance so I start train them amateur again in protection and guarding as working dogs.
The results of the canine sports and duties I tested all the time the breed , never disappointed me , and made me to ''lock'' them in my heart for ever.
Dog Shows
In 1998 I visit for a first time an international dog show and felt in love with that hobby. I learned quickly how to shows my dogs and how to walk them in the ring . My next goal was the breeding of shar-pei . I had to go to us many shows I could to got the knowledge and experience that was necessary so I could observe better every little detail of the standard of the breed and how to handle my dogs for the best.
Breeding
In 1999 I m having my first recognized from the kennel club of Greece litter of nine puppies, a Greek recur for the breed even today ( the breed usually gets the number of 5 or less puppies in a litter ).
In the meantime I started to work in little pet stores and then to big pet companies as a accountably for animal medicine and food. The knowledge that I got from the canine diet, helped me very much with my breed of , if you imagine that in shar-pei diet is very important the relationship between phosphorus-calcium-protein and metals in order to keep the dog and its skin healthy. At the same time with my work I take grooming lessons and start grooming by myself .
Training
Always fascinated by dogs, I m trying to learn us much us I can , by other breeders, dog trainers, and a lot of books over the years.
I did seminars for dogs psychology and dog training and could now understand everything about dogs and the way they thinking and express them shelves.
In 2001 I start my studies to the SDO High Technological Educational Institute of Larissa to the Department of Animal Products.
As a student I couldn't have many dogs , so I staid in very few of them , but I still keep going in every dog show and read from the dog magazines and papers ,for all that happened in the canine world that I missed while I was in the country.
Living in the country and having daily occupation in the farm of the institute , was a good time to test the breed in their own field .This was the perfect way to test and collect the best dogs of my breeding to continue my working lines. I test them in hunting of small and medium fairy animals , birds and of course ruts , something that they really enjoy! I also test them in herding and running beside horses for a long distances (testing their endurance). The abilities and endurance of the breed was remarkable and instinctively without training.
I take my certificate and free now from other obligations in 2007 I m doing the big step and registrate my kennels name in the Canine Greek Kennel , with the ancient Greek name KYNON MELATHRON, that means the kingdom of the dogs.
In the next years that came I occupied with the ''working dogs world'' . My dogs where trained in protection duties, taking prizes in agility and be used from professional trainers us therapy dogs and helping dogs for training other dogs with behavior and socialization problems
The last years I m working in a vet clinic as a vet assistance . I come in daily contact with dogs witch have many hereditary problems of health and behavior , that comes from gainful and superficial most of the times breeding. So I have learn and know very clearly now how to understand exactly the meaning and trying to do the best for a good, fine breeding .
Elena Tsalikidou
Member of the Canine Greek Kennel.